It's Summertime in Maine! This means everyone's weekends are being filled up with BBQs, get-togethers, and house parties.  You don't need a special reason because the warmer weather is a great excuse to have friends and family over for a dinner party. And after the past year we've had? We all deserve a fun night spent with the people we care about!  Here are 8 ways to make your next dinner party unforgettable.
Play up the season with ingredients and decor
Living in Maine, we are all familiar with the different seasons we experience and what each one brings. And though we may favor one season over another, we all can find some comfort in familiar offerings during that time. Summer is a perfect time for fresh strawberries, blueberries, tomatoes, and sweet corn. Play up the season with your decorations too! You don't need to go overboard here – vibrant colors for summer and darker hues for fall, seasonal flowers, and fragrant lit candles will make the atmosphere stand out for your guests. 
Pair unexpected flavors
Appetizers and snacks are a great chance to pair unexpected flavors together and let your guests try something they normally wouldn't have. Charcuterie boards have always been a favorite for dinner parties because there are endless possibilities on what you can use. Pair salty and savory options like almonds, pickled onions, and prosciutto with sweet jams, fresh fruits, and soft cheeses.  Arranging it on a wooden board allows your guests to grab some and go off and mingle with other guests.  And how impressive does a loaded cheese board look! Add some rosemary sprigs and a couple of decorative flowers and your guests will be continuously coming back for more. We at Rustic Taps Catering are experts at building beautiful and tasty boards for parties of all sizes!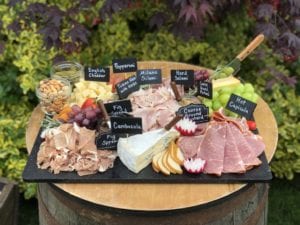 Have a signature cocktail
The party doesn't start until you have a full glass, right?! Dinner parties are a great chance to have some fun with a signature cocktail. Pick a drink you have enjoyed from a favorite restaurant or browse their menu to recreate your very own. Serve them in a fancy glass (there are plenty of affordable disposable ones now!) and decorate with fresh garnishes like rosemary sprigs or fruit. Not feeling creative enough to come up with something on your own?  Rustic Taps Catering has you covered! We craft exquisite signature cocktails that will surely impress all your guests. Your guests will feel like they are being treated when they are all sipping off your beautifully crafted cocktail. 
Have some dedicated table or counter space
Nothing is worse than having to balance a plate of food and drink at the same time while managing to eat and still mingle.  We have all been there! When there isn't any designated table or counter space for guests to enjoy their meal, they end up uncomfortable and feel out of place. Plan ahead! Consider how many guests you will be serving and where everyone can go. Don't be afraid to set up an extra folding table.  Your guests will thank you!
Utilize your outdoor space
Living in Maine this isn't always a possibility – So be sure to utilize your outdoor space when you can! If you have a deck or patio, expect that your guests will be out there wanting to enjoy it. Having an open door extends your party space, not to mention allowing fresh air into your home. Have some chairs set up outside so guests feel comfortable when they are out there.  Put up some lighting to really set the ambiance, like café or twinkle lights. If the weather is good enough, set up some games like Polish Horseshoes or Cornhole. And don't forget to offer up bug spray if needed!
Plan your playlist
What's a party without music? Don't let this be an afterthought and just throw on anything once guests arrive. Music is such an important part of creating a memorable night, so it's worth dedicating some time to curating a playlist beforehand. Consider what type of party mood you want to set.  If you want guests to be able to have a meaningful conversation, then some mellow tunes will work well. Looking to turn it up a little bit? Load up your playlist with some Top 40 party hits you know will get everyone excited.  Not taking the time to create a playlist beforehand could lead to the wrong song coming on at the wrong time (Think meaningful discussion being interrupted by the latest from Cardi B!)
Know your guest's dietary restrictions
Making sure you have something for all your guests is very important to make them feel welcomed at your dinner party. If you have a guest with a gluten allergy, make sure you have options they will be able to enjoy.  This doesn't mean you have to create a menu that's all gluten-free or catered to just one person – just make sure everyone will be able to enjoy something. 
Don't be afraid to ask for help!
Delegate! Seeing you run around stressed will make your guests feel like a burden and uncomfortable. Preparing a big meal is a process but that doesn't mean it can't be a part of the fun! Get your guests involved in the process. Little things like moving food into serving dishes or cutting the meat that just finished is a great way to let guests feel included in the night. Or you can always call in professional help, like our catering services, so you can enjoy the party with your guests! 
Rustic Taps Catering is fully equipped to handle whatever type of party you are looking to have. We offer mobile bar service, and a full catering menu with appetizers, meals, and desserts. Bring in a few small plates or have it fully catered – there are plenty of options to fit your event. Visit our website to plan your perfect event or email us now for some help!