The wedding is the biggest day of any couple's life. Once the bride and groom finish celebrating their engagement, the next step is always planning for the big day. This is where you and your soon-to-be spouse will decide on the budget, venue, catering, and other important factors that will ensure your wedding day goes along smoothly. When it comes to wedding day expenses in Maine, one of the major expenses, whether it's at-home weddings or at a venue, is, believe it or not, providing alcohol to your guests.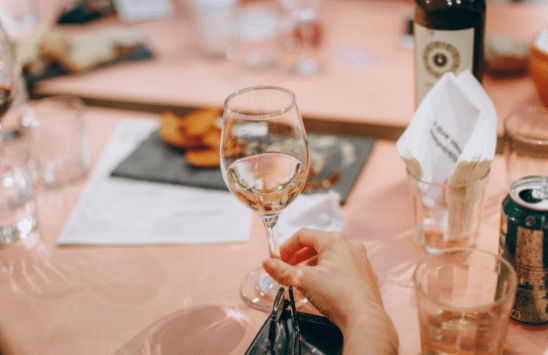 While there are many other expenses that go into wedding planning, a crucial aspect of every wedding reception is choosing the alcohol and the type of bar you want to offer your guests at your wedding reception. For many folks, this simply means lining up a few bottles of alcohol and hiring a bartender for the evening. Wrong. It is crucial to decide on what type of bar you will need for your big day, and what drinks you will be serving to your guests.
Why Choose a Full-Service Mobile Bar for Your Wedding?
While serving up a selection of wine at dinner is a completely acceptable option, hiring a full-service mobile bar for your wedding will allow for each guest to customize their experience and add to an already unforgettable event. The type of bar you choose to have at your wedding may not be at the top of your priority list,  however, it should be. Choosing a less expensive bar route can lead to 
much more stress and worries on your big day, and a tainted guest experience.
The more stressful mobile bar option typically means opting for a buy-your-own alcohol bar instead of a full-service mobile bar. Many people do not realize this, but full-service mobile bars are actually much more customizable than you may think. A cash bar is an option when hiring a full-service mobile bar service. While we're at it, a cash bar may also be combined after a free drink or two provided by the hosts. This can be a token, ticket, or something handed out by the family to be redeemed at the bar. 
The difference between a buy-your-own alcohol and full-service mobile bar? We handle all of the logistics. You sit back, relax, and get married. 
Full-Service Mobile Bars are More Affordable Than You May Think.
Contrary to popular belief, going for a full-service mobile bar is not as expensive as it sounds. There are many aspects to a mobile bar you might not consider. Napkins, stirrers, garnishes, cocktail mixers, alcohol pourers, ice, liability…. the list goes on. It really is not as simple as stocking the bar and pouring drinks. When you hire a full-service mobile bar, you do not need to think about any of this. You simply tell us how many guests, preferred menu, and we have all of the research and experience needed to fully equip your bar.
Other Costs Concerns
There are many rental bars that look cool or elegant but require the host to provide alcohol and then pay for a professional bartender. Two costs in addition to the supplies like ice, cups, napkins, straws or stirrers, besides not knowing the quantities and having too much or too little. These private bar services often charge a clean-up or set-up charge on top of the hourly rate. 
Never Run Out of Drinks
One of the main reasons to invest in a full-service mobile bar for your wedding reception in the first place is to make sure your guests are able to enjoy themselves and have a good time. While some people who run buy-your-own bartending service for weddings tend to run out of alcohol, which can very quickly zap the fun out of any wedding day celebration, hiring a full-service mobile bar means that your guests will get to enjoy an assortment of beverages – with plenty to go around. Less guesswork on your part, and quite frankly- many tasks taken off of your plate!
Now, let's talk beer. Heaping piles of cans or potentially broken bottles can look like a train wreck in pictures and may not be permitted at some venues. Remember college parties when you had to pump the keg and push the little trigger to get foam or the mess it makes? How about the beer that wasn't cold? Draft beer is the preferred choice of many until they run out of C02. Many craft beers require a mix of nitrogen, which makes it trickier, which is why you need to hire professionals who know their way around the beer keg. 
Lastly, when was the last time they cleaned the beer lines? At RTC, our lines are cleaned between every new variety of kegs and before each event. We ensure the integrity of the beer is the exact way the brewery would serve it or intended it to be served. 
A Less Stressful Option
Needless to say, going with a full-service mobile bar can take the stress out of having to plan the bar aspect of your wedding. Leave the bartending to the experts, such as Rustic Taps, which offers a full-service mobile bar for wedding celebrations.  
Our full-service mobile bar is the smart choice when it comes to people who are looking for the following perks of a full-service mobile bar on their big day: 
Want insured bar services.

Want tips certified and experienced to prevent over-serving. 

Want people that can recognize fake IDs that continue to get harder to distinguish from real valid ones

Want staff available to observe people that may have brought their own alcohol and prevent them from going to their cars and drinking. 

Want to ensure people are safe and avoid liability of potential issues with law enforcement  

Want to prevent issues from happening with their neighbors or in the community as a result of hosting celebrations.
Get the Perfect Bar Menu for Your Event
When it comes to planning your wedding in Maine, one of the challenges is not just choosing the type of bar you want for your big day, but rather, making sure your guests are able to get the perfect bar experience. This is only possible if you hire a full-service mobile bar that offers a premium bar menu that will impress your guests. The good news is, hiring the expertise of a full-service mobile bar ensures that your guests are treated to only middle and top-shelf liquor brands. At Rustic Taps, our Mobile bar services for weddings and events are able to get as crafty as you would like with the menu drink menu, ensuring that your guests are properly taken care of during your wedding and other celebrations. 
Customize Your Special Day
One of the reasons why brides and grooms opt for a full-service mobile bar for their wedding reception and not the buy-your-own-alcohol option is because it allows them to customize the drinks that are being offered to guests on their big day. For instance, a full-service mobile bar can serve His & Hers cocktails, which is by far one of the best ways to truly customize a wedding day celebration. What better way to customize an event and make it memorable than by having a signature cocktail, or cocktails? 
With the perfect assortment of cocktails and beverages, from mojitos to margaritas and everything in between, to wines and champagne, local and domestic beers, you can easily customize your special day with top-shelf brands to make your wedding day truly unforgettable. You get all of this and more when you hire the expertise of a full-service mobile bar for weddings or events in Maine.