We all agree that planning your wedding is super stressful.  Anyone who says otherwise probably had someone else do it for them.  Catering is considered the most important part of wedding planning according to more than half of all polled couples. So, clearly, catering must be super stressful! Not necessarily.  There are a ton of misconceptions about wedding catering, how hard it is, how expensive it is, what people want to eat, and so on.  Let's clear up a few things to make your wedding a little easier.
Wedding Catering has To Be Expensive or Terrible
Catering has gotten ever more expensive, it's true.  The cost of food and ingredients has skyrocketed over the last several years.  However, it's probably not quite as bad as you imagine.  If you skip the caviar and oysters, and stick to just friend people well, you can keep your budget relatively in check.  That's not to say that good food will ever be cheap, however. 
According to The Knot, the average cost of wedding catering is about $70 per person.  Meanwhile, you could be feeding your guests woodfired pizzas that they're going to like a lot more than some unpronounceable french dish they aren't sure how to eat for half that. 
Wowing your cherished guests isn't a matter of spending more on them, it's a matter of delivering exactly what they want.  Most people want food that's familiar but excellent.  That's what we aim to deliver, for way less than many other caterers.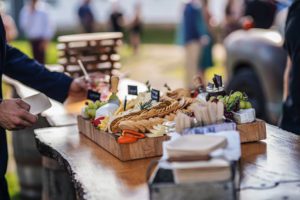 It's Always Complicated to Coordinate Caterers
There's this sense when one is planning a wedding that there are just way too many people to coordinate and details to plan.  Don't get us wrong, this is a really big day and getting every detail right is important.  However, that doesn't have to be quite as complicated as we make it out to be. 

Catering and drinks are a great example.  Many times bartenders and caterers are hired separately, paid separately, coached on your schedule and plans separately, and contribute nothing but additional headaches and requirements to the ceremony.  The caterers need somewhere to plate and serve from, the bartenders need to set up in the venue and take up valuable floor space, and since bartenders cannot carry liquor licenses, they cannot actually provide the alcohol. 
This all changes when you hire an all-in-one alcohol and food service caterer like Rustic Taps, though. Not only do we simplify your life by giving you one point of contact for all aspects of the food and drink you serve, we're happy to work with you to help you out more generally. Far from becoming a one-size-fits-all service, we focus on helping you make your special day unique.  If you need help designing your perfect day, we can help.  Should you want a special signature cocktail or pizza, we can help.  If you just want this crazy process to go smoothly and to not have to worry about food and drink, we can help!
Wedding Food Must Be Unpleasantly Fancy
While we are all familiar with the stuffy norms around wedding catering, we should not feel bound by them.  Can we and other caterers provide that kind of experience? Sure, of course, and we often do. That doesn't mean that it's the best fit for you and your big day. 

If you want to really please your guests, consider that pizza and beer might be the way to go! With our standard menu we can feed a crowd food they actually love and want to eat.  Breaking everyone out of their comfort zone and into obscure canapes isn't necessary.  It's your wedding and you should have the food you actually want to eat.  As it happens, just about everyone likes woodfired pizza, and our range of offerings makes finding the perfect dish for your picky nephew easy.  You can even do away with the assigned seating arrangements that inevitably result in sticky family politics boiling over into your special day.  Keep it simple, make it great.

Wedding Receptions Require a Venue With a Liquor License
While many caterers and bartending services do require a venue with a liquor license in order to serve, Rustic Taps doesn't. Our mobile taps and mobile bar have their own licensing ready to go.  This can save you a lot on your venue.  Renting an empty field costs a small fraction of what it costs to rent an event hall with a commercial kitchen and liquor license. Plus, with Covid restrictions varying by the month in many cases, having those wide-open outdoor spaces is an insurance policy against sudden changes to guidelines that might leave your guests staying at home and your non-refundable deposits wasted.
Caterers Require a Commercial Kitchen On Site
There's a common misconception that in order to have fresh, perfect, wonderful food for your wedding, you must have a venue with a commercial kitchen.  This has proven particularly daunting for outdoor and barn-style weddings that have become so popular (and often legally necessary to follow guidelines) during Covid.  While barns are beautiful structures with high ceilings and rustic charm, they are not well known for their extensive kitchens.
Though it is true many caterers can cook and prepare food ahead of your reception, they still require a staging area for heating and serving food.  Then you're basically feeding your guests, many of the most important people in your life, leftovers.  While you're busily trying to plan your event it's easy to give in to such concessions or to throw money at the problem and rent mobile and outdoor kitchen equipment, tents, and so on to just make it work. 
This limitation is why we retrofitted our beautifully restored trucks to provide a complete mobile catering experience.  We make food fresh, on site, in the quantities you need, with fresh and delicious ingredients in our authentic woodfired ovens.  That's not only simpler and easier than renting and setting up a gas range for your caterer behind the barn, it's tastier! As we said earlier, wowing guests isn't a matter of spending more, it's a matter of delivering exactly what they want.