Rustic Taps and Catering specializes in wedding catering, and our custom food trucks prove it. Our 1954 Chevy, 1955 Chevy, 1947 GMC, 1964 vintage Airstream, and 1939 Ford Trucks aren't just equipped with beer taps and can provide a selection of craft and domestic beers, wines, and full bar service; they're designed to fit into any outdoor wedding space. We have customized each vehicle to fit your big day, offering a rustic-yet-luxurious experience.
Dedicated Wedding Catering Food Trucks
Wedding catering food trucks offer a unique and memorable experience for couples and their guests. Our custom food trucks are designed to provide a range of delicious options for weddings, including artisanal wood-fired pizzas, indulgent cheese boards, charcuterie and crudités platters, and refreshing salads. Our trucks also feature a selection of local craft beers, wines, and spirits, ensuring that there is something for everyone to enjoy.
The added value of our specialized wedding catering food trucks lies in their unique and stylish design. Our 1947 GMC Truck and 1954 Chevy Truck offer a stunning visual element that will enhance any wedding setting. Our 1939 Ford dump truck, with its converted wood-fired pizza oven and top-notch bar, adds a touch of rustic charm.
In addition to providing delicious food and drinks, our food trucks offer a convenient and flexible catering option. They can be easily set up at any wedding venue, allowing couples to create a customized dining experience for their guests. With our expert team on hand to manage all aspects of the catering, couples can relax and enjoy their special day.
Here's a little more about each of our custom wedding catering food trucks.
A bold and beautiful statement, our

1947 GMC Truck

has a delicious menu featuring artisanal wood-fired pizzas, indulgent yet formal cheese boards, charcuterie & crudites platters, and a selection of refreshing salads; eight beer taps round out the GMC's arsenal, making this setup a must-have at any occasion. With a penchant for local resources and commitment to quality, the RTC team ensures that hosts and guests alike will be delighted by a delectable taste of Maine.

The original road warrior of the pack, a royal red

1954 Chevy Truck

has the honor of being perhaps the most popular; a dedicated mobile bar aiming to please, the Chevy is stocked with some of Maine's most lauded craft beers, alongside wine, champagne, and prosecco for those who'd rather. With ten beer taps ready to go at all times and a stunning look, this truck is bound to shine in any setting.

After a long agricultural life in Kansas, this workhorse has gotten a fresh start and a new lease on life in Maine. This addition to our 'Fleet' is a

1939 converted Ford dump truck

that brings the very best of both worlds. Onboard is a wood-fired pizza oven, a top-notch bar pouring only mid and high-grade spirits, flowing beer taps, and of course–a mouth-watering rotation of boards, platters, and hors d'oeuvres to compliment those stellar beverages.

Bringing classic mid-century sleek chrome design, our

1964 vintage airstream trailer

is equipped to be a conversation-sparking mobile bar. It delivers a fun and unique experience for guests that include not just all the beer and wine from our taps but mixed drinks to order.  This beauty can be booked by itself or as a part of your service for a large event!

Our latest addition is a beautifully restored

1955 Chevy woodfire pizza and bar truck

is very similar to our 1954 Chevy truck.  It has a full woodfired pizza oven built in, a range of taps for beer & wine, and comes with full bar service. It makes any event more elegant with its beautiful finish. 

We know that if you get to know our beautiful custom-restored catering and bar service food trucks, you'll love them just as much as we do!
Why Catering Food Trucks Get a Bad Rap 
Across the wedding industry, there are some concerns around food truck wedding catering, some of them valid, some of them misinformed.  On the one hand, everyone knows that food trucks are fun, often very delicious, and more flexible than traditional catering when it comes to outdoor venues.  However, there is an expectation that food truck catering is more limited in scope, with long wait times and ineffective service staff unused to big events.

These concerns might be true for a traditional food truck you might find parked out in the wild with one or two people inside busily working to serve tacos, burgers, or other easily portable food to order.  This simply doesn't apply to an actual catering food truck, though.  Any good catering food truck, like our own, will be designed not only for cooking to order but for preparing large quantities of food and putting them out in a way that's easily accessible to large groups.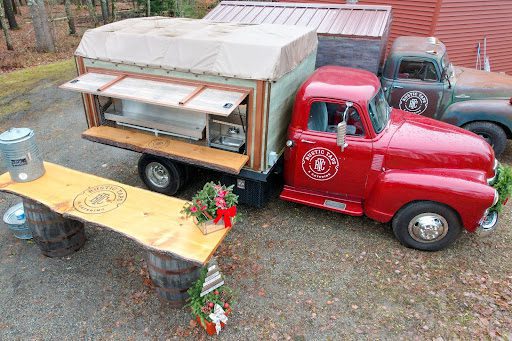 Our food trucks all have beautiful wood counters and/or tables for laying out food, putting down freshly poured drinks, and taking orders.  However, like any other catering service, we also provide wait staff suited to the event. After all, you don't want guests in fine formal wear to huddle in a line up to a dark serving window for a greasy morsel (and neither do we!).
While a traditional food truck serves people one at a time, with a wait of anywhere from one to five minutes per order, our standard approach is to serve at a rate similar to, or faster than, a traditional catering service could manage. Our beer trucks have ten taps for a reason, and that reason is that we want beer tenders and bartenders to have easy, fast access to what they need, space to move around each other, and the bandwidth to serve every guest quickly.
Great Service Makes Happy Clients
Thankfully, you don't have to take our word for it that we offer fast, high-quality service. At the time of writing, we have 49 google reviews with a perfect 5.0 rating, a perfect score on Wedding Wire, a 5 out of 5 on our Facebook page, and a 5.0 on The Knot! You can read for yourself about the many positive experiences, happy couples, impressed guests, and other great experiences we've delivered. More than anything, this is proof that a wedding catering food truck (or at least ours) is a perfect fit for most outdoor weddings.
In short, we're not just a food truck or mobile bar that happens to cater weddings; we're kind of the exact opposite.  We're wedding caterers who happen to use food trucks.  Check out the rest of our site to learn more about our trucks, look at our menu options, or book us for your special day!