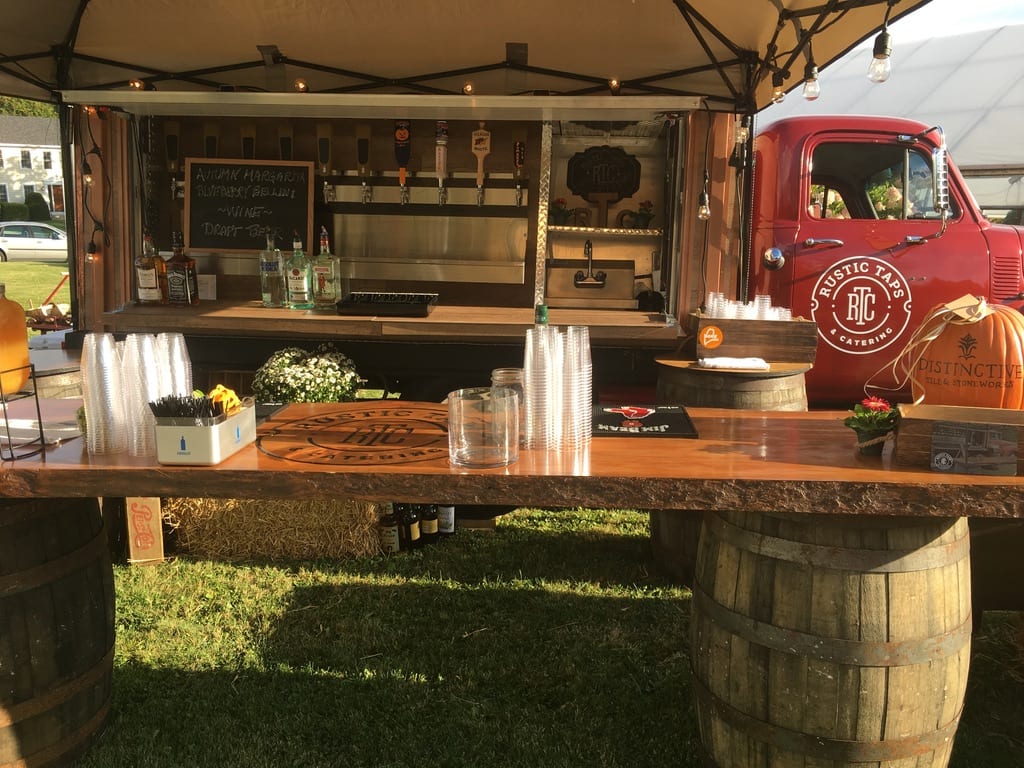 At Rustic Taps, we are fortunate enough to have great relationships with some of the best breweries in our home state and far beyond, too. We feel so blessed to reside in such a tight-knit community full of local businesses. Of these businesses, breweries are a huge piece of making Maine- especially Portland- what it has become today. The beer is so unique and so delicious- and we love partnering with these local brewers to create the perfect draft beer menus for all of our events! Our beer trucks are equipped with cold plate technology and plenty of space for Kegs- and we have enough draft lines on each of our trucks to make sure you can serve a well-rounded beer menu during your event. From stout lovers to IPA fanatics- your guests will all be pleased. 
SO for this blog- we wanted to highlight 11 of our most popular breweries and the beers that are most requested. In no specific order- here they are….
1. Maine Beer Company
Maine Beer Co. has quickly become a Maine staple. They brew amazing beer, are heavily involved in our community, and recently redid their Freeport Facility. It is absolutely beautiful and a great place to stop for a cold Maine brew! This probably won't come as a surprise to many people that know MBC- but the most requested beer for our events is LUNCH! Read more about this IPA here.
2. Bissell Brothers
We know you knew this was coming. If you have even dabbled in the craft beer scene here in Maine- then you have heard of Bissell Brothers- and chances are you have heard the name even if beer is not your scene. Masters of brewing & branding- Their famous Substance ale is almost always on our event menus. Read more about this IPA here.
3. Foundation Brewing
Residing in the ever famous "brewery row" in the Riverside area of Portland, Maine- Foundation is one of our favorites. Their dedication to their craft is noticed by the community and we continually see more and more of Foundation beers everywhere. Although their list of beers are all winners- Epiphany takes the "hops" as the most requested Foundation beer. Read more about this IPA here.
4. Allagash Brewing Company
Not only a river in northern Maine- a very well known brewery being poured all over Maine and states across the US. We admire the lengths this brewery has reached- and it is apparent why whenever you open one of their beers. Always Delicious, and backed by a company that cares about their community. Arguably the best drink pairing with a classic Maine lobster roll- Allagash White is what we pour the most of. Read more about this Belgian-Style Wheat Ale here.
5. Lone Pine
Quickly becoming a local favorite- Lone Pine is a must when it comes to trying local Maine beer. They recently opened their second taproom right here in Gorham, Maine- and it is so well done! We absolutely love Lone pine and are so grateful for our partnership with them. It is a tie between the ever famous Portland Pale Ale and Brightside IPA for which beer is most requested. You can read more about these beers here.
6. Definitive Brewing Company
Definitive Brewing opened a few years ago and took Portland by storm. Their beers are well known throughout the community and they have made a name for themselves through effective branding and unique brews. Their taproom is also located in Riverside and worth a visit. Contee is our personal favorite- You can read more about this Kolsch Style Ale here.
7. Oxbow Blending & Bottling 
A well-known brewery located in Portland's East End Neighborhood- Oxbow has built a reputation for themselves by serving up arguably the best of aged beer in Portland, Maine. Their taproom is very large and well known for accommodating events of their own. Master's of Saison style beers- It only makes sense that the most requested Oxbow brew is the Farmhouse Pale ale. You can read more about this classic beer here.
8. Shipyard Brewing Co.
Known far and wide- we are proud that Shipyard is a Maine based brewery! Despite being one of the largest breweries in the state- we are grateful for the local relationships they maintain in their community. Although only a seasonal beer- Their Pumpkinhead Ale tops the list of requested Shipyard beers especially for our Autumn weddings. Who doesn't love a cold Pumpkinhead to ring in the new season every year?? Don't forget the cinnamon-sugar rim! Read more about this wheat ale here.
9. Sebago Brewing Company
Pioneers in the craft beer industry in Maine- Sebago is one of our most trusted brewery partnerships. These guys have built an empire- and a culture. Their beer list is full of classics and they have stayed on top of the trends with some delicious new IPA's as well. Not to mention their restaurants- a meal at one of their breweries will never disappoint! Named after one of Maine's famous lake attractions- Frye's Leap IPA is the go-to for our event draft menus. Read more about this classic IPA here.
10. Baxter Brewing Co.
Known for their involvement in our community and passion for giving back- Baxter Brewing has become a staple in our state. It is no wonder Baxter tops the list of most requested breweries at our events- their passion for what they do can be tasted in every refreshing sip. We will give you a wild guess at the beer we pour most of- You (probably) guessed it- their famous Stowaway IPA. You can read more about this IPA here.
11. Mast Landing
A newer brewery- but already well known. Mast Landing has absolutely crushed the craft beer game and we could not be more impressed. Their beers never disappoint and their taproom is a local favorite in downtown Westbrook. Creativity combined with quality is what you will find at Mast Landing. Their most famous stout- Gunner's Daughter- is one of our most frequent pours. Let's just say if you like a peanut butter and chocolate combination- you will love this stout. Read more about this Stout here.
We have many partnerships with great breweries past these 11. Our passion lies in bringing wedding visions, corporate gatherings, and other events to life- and it would not be possible without the pure talent of these local breweries. Thank you for all that you do- CHEERS to our craft beer community here in Maine!