You might be thinking, how hard can this be? Building the bar menu for your wedding or event should be as easy as 2 reds, 2 whites, one of each liquor, and some good beer- right? Think again. You truly should be spending as much time building the correct beverage menu as you are the food menu. Fortunately, many mobile bar services are a huge help when it comes to this task. They have the experience and knowledge it takes to make sure every guest has an option they enjoy and that the menu compliments the style of your event. 
We compiled a few different key points to consider when deciding on the bar menu. As a catering company that has catered hundreds of Maine weddings, we feel these points are the most important to consider in the planning phase. Need a mobile bar service for your event that will help you through this planning process? Learn more about Rustic Taps & Catering here.

First things first, the faster the better. 
No one- and we mean no one wants to spend 10 minutes in line and 5 minutes waiting for their cocktail to be made especially at such a special, once-in-a-lifetime event. You want your guests on the dance floor and mingling, not waiting in line at the bar all night. When hiring a mobile bar service, this is typically a top priority for them already. One thing we like to do is pick cocktails that can be made in batches. This allows for extremely quick service while still providing unique and delicious cocktails. Talk to your mobile bar provider about their recommendations when it comes to cocktail options.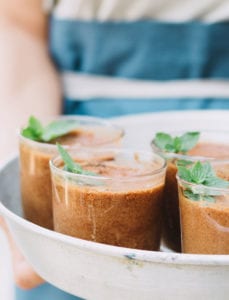 You've heard the saying "we eat with our eyes"- the same is true for drinking! 
This point is less about the actual selection of alcohol and more something to consider that will help you pick. At Rustic Taps, we prioritize the appearance of cocktails. If you have a whiskey cocktail on the menu, using circular or cubed ice cubes can improve the appearance. This makes for a better experience all around- not to mention the photo ops! A few more great options include using mint leaves in mojitos, soaking fruit in sangria to be served with the drink, and having proper garnishes to complete each cocktail.
Consider the ABV 
At the risk of sounding like a fun-ruiner, we have to advise considering the ABV of drinks you are serving and how that might affect the event/wedding. Picture this: You have an open bar for the wedding party and the cocktail of the night is a martini- A martini is actually equivalent to almost 2 full drinks. Say the best man is loving the cocktail- but one too many and he is slurring before speech time. You might be thinking that it is up to the guests to monitor their alcohol intake- and you are right. However, building a menu that allows guests to enjoy multiple beverages instead of serving really high percentage cocktails can make for a smoother more enjoyable evening. It is also really important to be a part of keeping your guests safe. Are they staying the night or driving home? All of this matters when making the bar decisions. This can be tricky if you do not have much experience in the realm of serving alcohol- we are here for you if you have any questions! Contact us here.

When it comes to wine….
Wine is always a fan favorite. It's elegant, delicious, and a staple at every event. Providing quality wine options will be appreciated by many guests- and there is a way to do that without breaking the bank. Consider the food menu when making this decision- are you serving a 4-course gourmet dinner? If you took the sit-down meal route it is important to have wines that compliment the dinner. Having a few lighter options to sip on socially throughout the night is also a great option to provide- just be sure to have both a red and white option. Classics include Cabernet Sauvignon, Pinot Noir, Chardonnay, or Pinot Grigio. Talk to your bar provider if you would like to get more creative with the wine selection.
Have a signature cocktail- or 2!
By now we have all heard of the "his and hers" cocktail trend. It is such a creative way to bring a personal touch to the bar menu. Having pre-selected cocktails can make planning easier and the mobile bar service more affordable. You can still have a full bar so people can choose their favorite liquor and mixer, but for the guests who want something more exciting, they have a few select options to choose from. We have also seen brides and grooms serve "tribute drinks" as a nod to a deceased grandparent or family member's favorite cocktail. This is such a sweet way to add sentiment to your wedding day!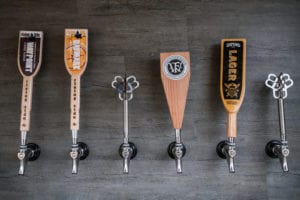 The spirits you choose matter- keep it local. 
You will probably see this in some way with every blog we write. KEEP. IT. LOCAL! There is nothing more tasteful or classy than serving local spirits at your wedding. There are so many amazing options today and your bar provider can help you work them into any cocktail. Aside from choosing local spirits, it is also important to keep in mind that the liquor you serve at your wedding says a lot about the event and the experience you want your guests to have. Serving local, middle, and top-shelf liquors will tell an entirely different story than serving Gordon's vodka. Not to say either one is worse than the other- you just really need to ask yourself " What alcohol am I? My spouse? My Guests?"
Speaking of questions to ask yourself… Who are your guests?
It is important to assess your guest list when building your bar menu. Are the majority of your guests older? Younger? A mix of both? It is unlikely that your 60-year-old uncle is going to want a fruity-tutti cocktail. Having classic whiskeys, gins, and a few staple beer options can ensure the older crowd finds a drink they enjoy- while serving local liquors and new craft beers will cater to the younger. We always say that a mix of the two will lead to the perfect bar menu for your wedding. 
At the end of the day, your guest will appreciate any effort put into building the perfect bar menu for your wedding or event. We highly recommend working with a mobile bar service or caterer that has the experience to assist with this task. They have years of experience and research along with the same conversations for every event. They can help you make the right decisions and create a bar experience that will tie it all together. Having a Maine wedding? We would love to be your bar provider! Learn more about our bar services here.