We understand that events as we know them have completely changed. To protect our communities and those we love, social distancing has become our new normal. With that being said- many feel we are starting to see the light at the end of the tunnel. As we learn more about this virus, how to protect ourselves, and vaccinations are being distributed, restrictions will begin to lift even if it is slowly. As of now, we have established protocols across the world that allow businesses to operate and events to be hosted in a safe manner. 
Our goal in writing this blog is not to dismiss the severity of COVID-19 and the importance of social distancing, but to offer some suggestions to improve an event you might be hosting now or in the future. Along with everyone else we hope to see the days of group gatherings, outdoor festivals, and concerts are part of our normal. For now, here are 5 suggestions to help improve the turnout and guest experience of your event here in Maine.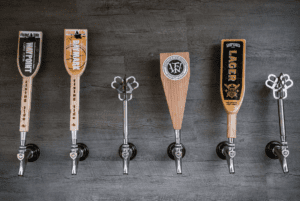 Don't Forget the Craft Beer. 
This is a must these days! Maine has one of the highest amounts of breweries per square mile in the United States- despite our smaller population. These numbers continue to grow as new beer, cider, and kombucha connoisseurs bring their magic to life in our communities. This industry is so much more than refreshing adult beverages- it is a lifestyle, an experience, and loved by so many in our little state today. Serving local craft beer at your event is a great way to attract a large demographic of brewery lovers to attend your event. Not only this, but you are supporting local brewers. You can opt for spotlighting specific breweries or hiring a company like us, Rustic Taps, to bring a selection of local craft beers cold and on tap. Cheers!

If you haven't already, consider hosting your event Outside. 
As if outdoor events were not already a typical go-to in Maine in the Summer, now more than ever they are opted for. Hosting an outdoor event has endless benefits. A beautiful view, fresh air, vitamin D, space to move around/create distance, and so much more. Especially in the Spring, Summer, and Fall, people are much more likely to be interested in an event if it is hosted outside. We live in Maine and spend many months of our year inside, so any chance to be outside in the warmth with the people we love is taken advantage of. You can always rent a tent to provide coverage from bad weather or even schedule a rain date in advance. Hosting outside will make the attendee list skyrocket and keep your guests safe, too. 
Marketing is a MUST. 
Any business owner has dealt with this first hand- marketing has become completely unavoidable and non-negotiable. This obviously does not apply if this is invite-only, but if you want to host a successful community event or fundraiser you have to get the word out there. Here is a list of a few must-do's within a minimum of 3 months before your event. 
Write a description of your event that is catchy and includes all of the "reasons to attend"

Design an event graphic. This doesn't need to be professionally done but needs to be appealing. Use a template on a design tool like

canva.com

.

Use a tool like

eventbrite.com

to offer tickets. You can easily link this to your website and social media and this is a great way to track attendees and obtain their information for further marketing.

Add your event to your website

Create, share, and post about said event on Facebook & Instagram- be sure to create a "Facebook Event"

Create a social media ad or boost your event. Just make sure to get specific on your demographic/audience!
Another great way to powerfully market your event is to partner with one or more businesses within the community. They can repeat the above steps and you both gain the benefits of exposure to the other's following. Just make sure marketing is on the top of your event to-do list!
When it comes to catering, cater to everyone. 
We live in a time that being health-conscious when it comes to diet is extremely prevalent. Many people will research the food offerings at an event before making the decision to attend. Be sure to have multiple options or hire a company that caters to an array of dietary restrictions. Another aspect of hiring a caterer to consider when hosting a community event is that people do not want to wait long for their food. The key is to offer the freshest menu that is prepared in the shortest amount of time. 
At Rustic Taps & Catering, our Pizzas have a thin wood-fired crust with a homemade sauce of fresh herbs and the finest San Marzano tomatoes imported from Italy. Each pizza is made to order using the freshest, local ingredients and they are ready in minutes. Our menu offerings include much more than pizza as well. Click Here to inquire about your event. 
Support Local
We all know the importance of supporting local these days- shop local, eat local, keep it local! Your local community is full of collaboration opportunities that can be mutually beneficial. Consider partnering with other local businesses to host the event. Cross marketing can make a world of difference. Raising money? Host a silent auction with items from your favorite local businesses. Hire a catering company that sources fresh foods from local farms. The options are endless and will bring more attraction to your event- and you can feel good about it. 
We hope these tips were helpful! Don't forget that until it is safe to return to normal- social distancing measures are extremely important at your event. We look forward to the day we can all participate in community gatherings again. 
Planning an event and needing a caterer? Rustic Taps & Catering offers everything you need to serve your guests and help create an unforgettable day/evening. We also offer mobile bar services. Learn more by browsing our website or inquiring here.