Love the idea of a backyard wedding? There are so many reasons why couples are opting to have their ceremony and reception at their home or close family member's house.  For one, getting married at a place that means so much to you will give your special day that much more sentiment.  You will fondly be able to go back to your wedding day memories whenever you choose, simply by walking around the property. Many like the idea of having a casual "backyard bash" type of event over a stuffy, over-the-top affair a lot of weddings have become. Not to mention there is no need to wait over a year for an open date like every venue out there- you can choose whatever date you want!
Whatever the case may be, deciding to have your special day at a private residence comes with its fair share of planning. From renting equipment and finding a caterer for the event, to figuring out parking and if your septic tank can handle all your guests (yes, this is a thing!)- a lot of decisions need to be made and planned for beforehand. With the right planning and the help of some hired professional, your wedding day will be one of your most cherished memories. Here are five tips to ensure the day is everything you dreamed of!
Figure out the vibe you're going for, and build from there!
Are you envisioning a casual, backyard BBQ feel with fun lawn games or a cozy garden party filled with twinkle lights? Figure out what mood and theme you want to capture and build from there. Pinterest is a great tool to pull ideas and build your own vision boards on what you want your day to look like. Simply search "backyard wedding" and it will pull up endless ideas and DIY inspiration to piggyback off of. 
Tally Up Your Guestlist Early
Knowing who and how many people you'll be accommodating is a key factor in planning a backyard wedding. This will give you an idea of what rental equipment you will need- like tables, chairs, plates, and the size of a tent if you are looking to provide a sheltered area. It can also help point you in a direction for food and drink service.  Are you have a small, intimate affair of 30 people? A professional catering company with plated meals could be a good option.  Having a larger event? A caterer that can deliver large quantities or food trucks would be perfect. Will your event have children there? Make sure whoever does the food has options for them, too! Our Rustic Taps Catering Trucks offer a little bit for everyone, with our full menu of artisan wood-fired pizza, cheese boards, charcuterie platters, crudites platters, and a variety of salads to meet anyone's preferences. Knowing who and how many guests will be invited also brings us to our next tip…
Plan Your Drinks Accordingly
Will your reception be simple BYOB, or do you want to provide your guests with drink options? Lots of couples will offer non-alcoholic drinks like bottled water, sodas, or juice and let their guests bring their beverage of choice to celebrate with.  Some offer a selection of craft beer and wine or hiring a full bar service. Many food caterers offer drink service as well, so be sure to ask!  Whatever it may be, get creative and make your drink selection memorable. DIY how-to's on displaying your drinks in a canoe filled with ice or creating a homemade bar with beer taps from reclaimed wood can be found all over Pinterest. Details like these will make your event even more memorable, not only for you and your partner but your guests too. Remember, when providing alcohol to your guests at your home, you are responsible for their well-being.  If you know the guest list is heavy with drinkers, an open bar with hard alcohol may not be the best idea.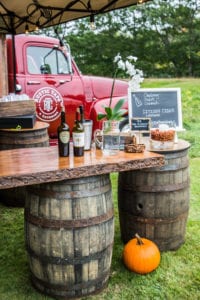 Make Sure You Offer Necessary Amenities 
This step is one not to be overlooked. Think of a time you were a guest at someone's wedding and mentally run through the event, start to finish but try to do it from a managing standpoint.  The venue probably had a parking lot with signs explaining to guests exactly where to go.  Maybe there was a program handed out to guests, so they knew the days' timeline. Bathrooms were visible and maybe spruced up with a toiletry basket that guests could help themselves to. Details like these will make your guests enjoy their time more and lead to an overall successful day for everyone. Have a parking plan and don't leave guests questioning where they need to go. Typical homes aren't built to accommodate 50+ person wedding ceremonies so there will be some logistical planning needed beforehand. Family-sized septic tanks can't handle groups this size, so porta potties need to be considered. Place a stand-up mirror next to them with a little table filled with the same toiletry baskets you have seen at other venues and your guests will truly appreciate it!
Bring In Day-of Help
The last thing you want to be doing on your special day is running the event and trying to make sure everything goes off without a hitch. Having someone there who will reliably coordinate your event will allow you to enjoy and remember your wedding day for everything it should be. This doesn't mean you necessarily need to hire a professional wedding coordinator (but you certainly won't regret it!).  Having a trusted friend or family member there that will take on this role seriously and is ok with stepping back from the party means you can be fully present on your big day. Being in contact with all the vendors and making sure they are where they need to be, keeping an accurate timeline so guests aren't left wondering what is next, and moving the event along is one of the most important pieces of advice we can share.  
Having a backyard wedding can be such an intimate and memorable time for not only you and your partner but your guests as well. Planning ahead will make all the difference and allow it to truly be the best day of your life.   Rustic Taps Catering Trucks in Maine were made for events like this! Our fleet of trucks offer mobile bar services, catering, and wood-fired pizza and will add charm to any wedding or atmosphere. Whether you are looking for a rustic Maine vibe or a classy and luxurious experience, we have you covered. Reach out and let's start planning today.