Planning your wedding but not into serving a traditional, elaborate cake? You're not alone! More and more couples are opting for alternatives as dessert instead of this age-old classic. Having something different to offer allows you and your partner to put your own personal touch on the big event. Here's our list of 10 Unique Dessert Options to Try at your Wedding!
1. Donuts
Donuts are a great dessert option because they are easy to eat and so customizable. And we aren't talking about your average gas station treat… Gourmet donuts have exploded in popularity over the last few years, with sweet flavor combinations like fruit and candy, to savory options covered in maple bacon.  Serving donuts allows you and your partner to pick a few different options your guest can then choose from. Try arranging them on a Pinterest-worthy Donut Wall, or by flavor on a donut stand. Or you could opt for mini donut holes and serve them in individual cups. There are plenty of options that you and your partner can play around with.
2. S'mores 
Living in Maine, most of us share memories roasting marshmallows and drooling over s'mores up at camp. Having this iconic treat at your wedding is sure to be a crowd-pleaser…because who doesn't like gooey marshmallows and warm melted chocolate? Set up a roasting station with all the fixings and add unique ingredients to spice it up…like strawberry-flavored marshmallows and chocolate peanut butter cups.  Here at Rustic Taps and Catering, we love this idea and happen to specialize in Woodfired S'mores as a dessert option.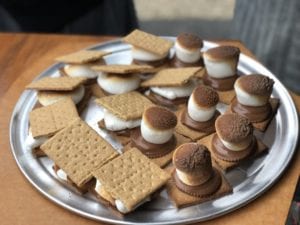 3. Seasonal Crisp
Crisps are also a great way to give your guests an authentic Maine vibe. Depending on the date, you can offer a seasonable crisp with ice cream instead of a traditional wedding cake. June and summer months are perfect for peach, blueberry, or strawberry crisps and cobblers. And fall weddings you can't go wrong with a warm cinnamon apple crisp. Bakeries can cater full sheets that you can then serve up in individual bowls topped with ice cream, just like you get at the fair!
4. Cookies
Get creative and satisfy everyone's sweet tooth with these easily customizable treats. Pick a variety of flavors or a selection of iced sugar cookies in different shapes and sizes. Personalize them with your monogram, wedding date, or even a picture of you two! Or opt for an Instagram-worthy Macaron tower your guests will likely be gushing over. Cookies and treats that you can serve up individually are expected to be even more popular because of the COVID pandemic. Pre-wrapped, individual dessert portions can help minimize contact and as an added bonus, even double as wedding favors!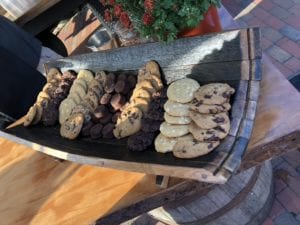 5. Whoopie Pies
It doesn't get more Maine than this.  Whoopie Pies are one of the many things Maine is known for…and a cherished comfort food. Opting for whoopie pies as your dessert option leaves guests feeling nostalgic and happy to share in their love of Maine and the classic treat.  Serve theme arranged on a whoopie pie tower with a variety of flavors like red velvet, carrot cake, vanilla, or classic chocolate. 
6. Ice Cream
Who doesn't like ice cream? Regardless of what time of year your big day is held, ice cream will always be a crowd-pleaser. Offer a few flavors that can be scooped into individual cones, or a self-serve ice cream sundae bar with all the fixings. Some couples will rent an ice cream truck for the night to serve all their childhood favorite treats like classic King Cone, Screwball, or Snow Cone. 
7. Candy Bar
Make your guests feel like they are in a penny candy store with this easily customizable dessert option. It's quick and easy to set up and looks impressive.  Dedicate a table to different-sized glass jars with spoons to scoop from. Pick any of the classic favorites like M&M's, Reeses, and jellybeans and then get creative with some personal picks like Warheads and Nerds. Offer personalized bags or to-go boxes your guests can take home and enjoy…if there is any left!
8. Belgian Waffles
This is a great savory option and sure to turn a few heads, in a good way! Having Belgian Waffles is a unique option that guests will truly remember.  Serve pre-assembled on individual plates like you would a traditional cake, all with the same toppings like strawberries, walnuts, and whipped cream. Or you could have a waffle station where guest chooses their toppings. Either way, serve them with pure Maine Maple Syrup and your guests will leave raving about the night. 
9. Mousse Cups
Mousse is a great option that guests can indulge in and not feel like they went overboard with. Small cups with different flavors like blueberry, lemon curd, or vanilla layered with crushed Oreos will look beautiful arranged on a self-serving table or handed out. Having small serving cups allows guests to try multiple options too, so be sure to order more than one per guest!
10. Cupcakes
If you still want the memory of your day with a classic wedding cake taste, cupcakes are a great option that will still allow you to be a bit untraditional. Bakeries and caterers can often do the same flavors they would with a traditional cake, just in personalized perfect portions. You could opt for your favorite flavor or offer a selection guests can choose from. Arrange on a cupcake tower or individually brought out to your guests. An added bonus is guests can easily take home any leftovers, so you aren't wasting any.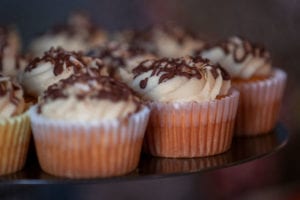 Whatever you decide to offer on your special day, be sure to make a statement with its arrangement so it leaves a lasting memory yourself and guests won't soon forget. Rustic Taps and Catering would love to help make your special day one for the books. Our time-classic trucks and delicious menu options put a lasting impression on your day. We are happy to discuss ideas and options to make your day everything you hope for. Reach out and let's start planning today!